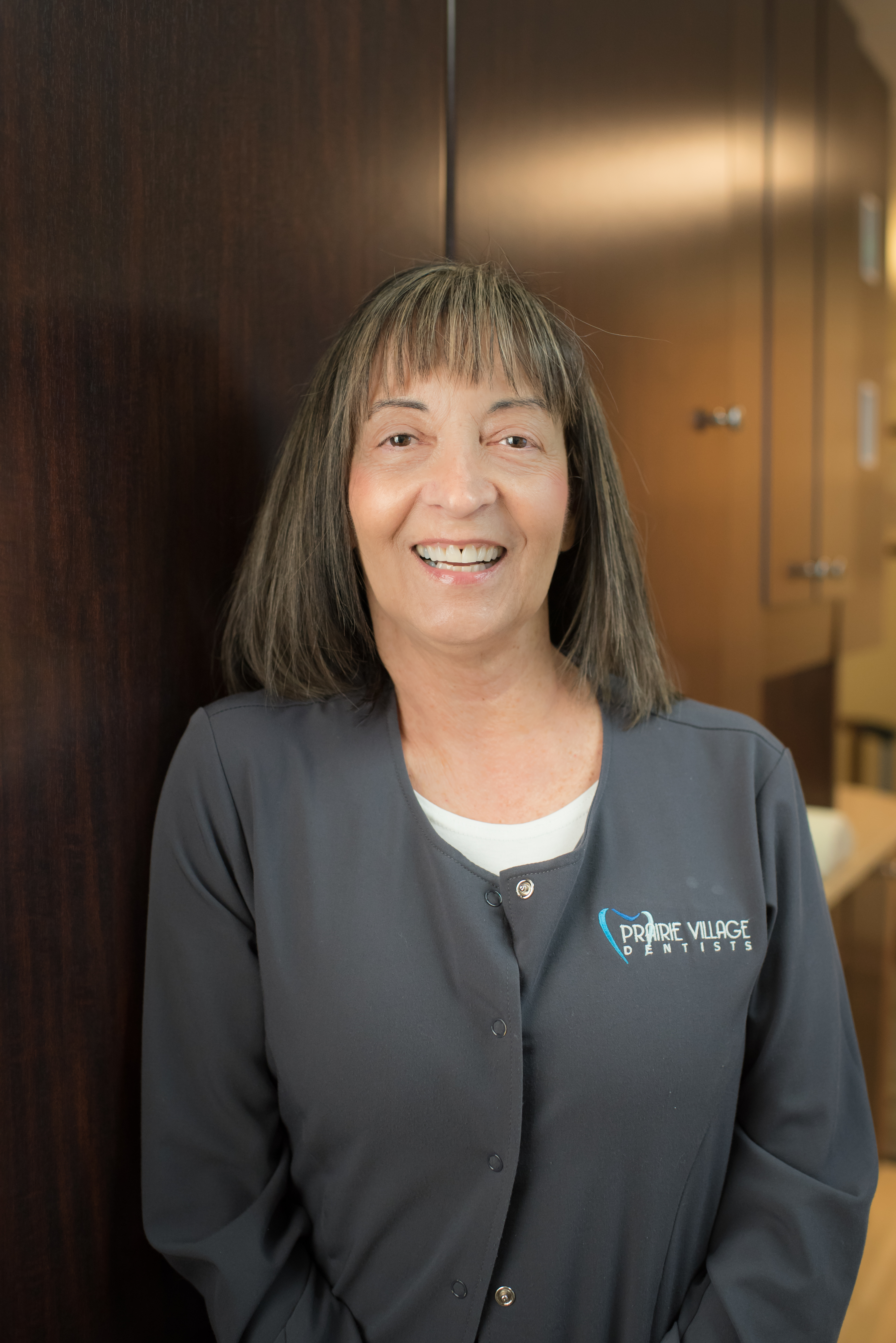 Theresa
Office Administrator
My Dental Career began here in 1991 as a Registered Dental Hygienist. Years later, I started working at the Front Desk. I learned everything from answering the phone & confirming appointments to the challenging world of insurance & beyond. I semi-retired in July 2020. I'm still around working "behind the scenes" on Wednesdays.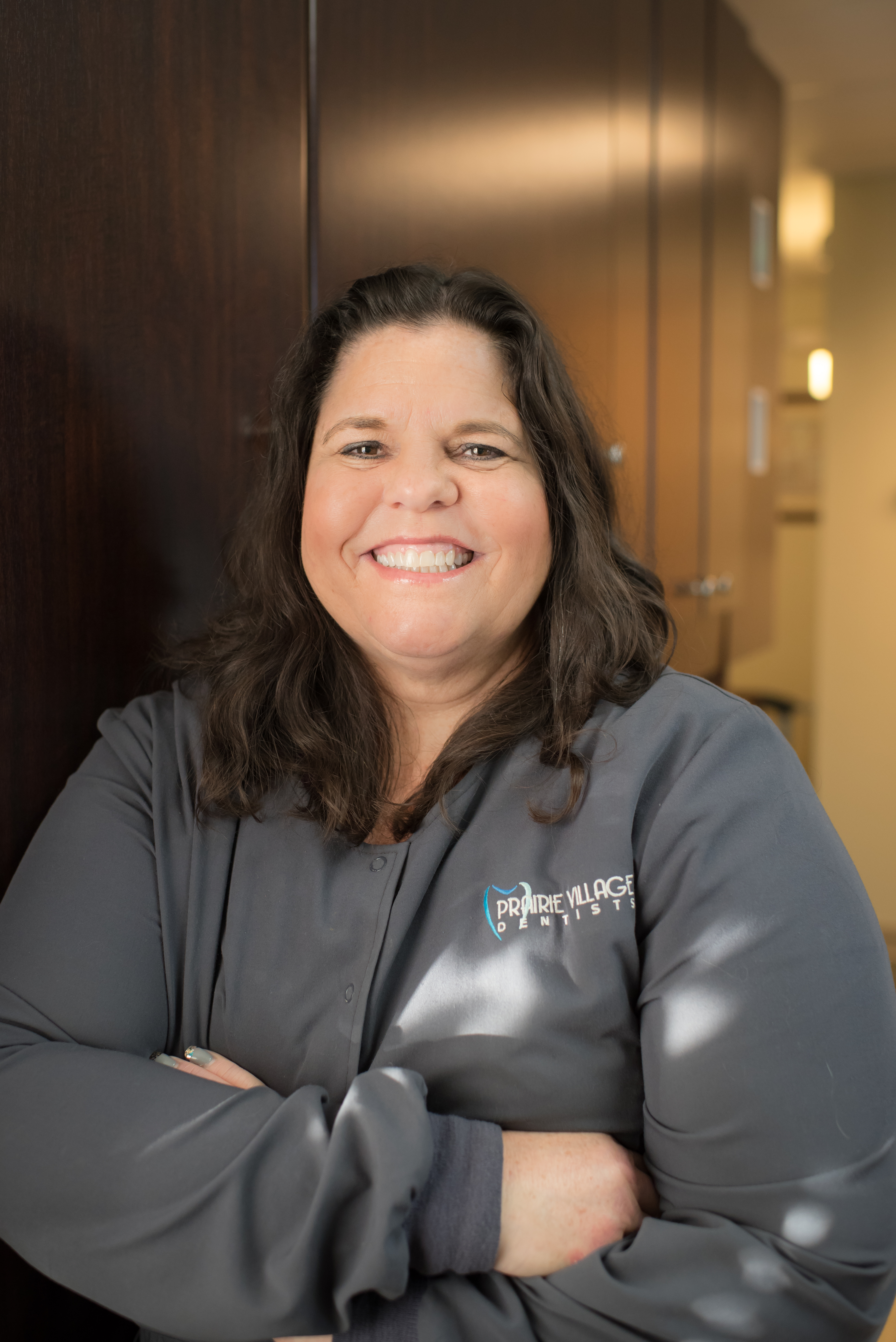 Sherry
Office Administrator
My journey began when I was a senior at Shawnee Mission East High School participating in an afternoon work placement program. I was originally hired as the receptionist for Prairie Village Dentists, and now over 40 years later I am still going strong as our Business Manager. My personality, joy, and laughter can be felt by all those around me. My caring and nurturing touch is something you can feel from miles away. I work hard to keep everyone busy, on time, and always with quality production. I strive to ensure that each patient has not only the best experience but leaves feeling like family. I enjoy karaoke, my yearly trips to Florida with my sister to visit my Mom, and spending time with my son Brooks, and my grand dog, Rocky.
"Better late than never does not apply to your dental appointments."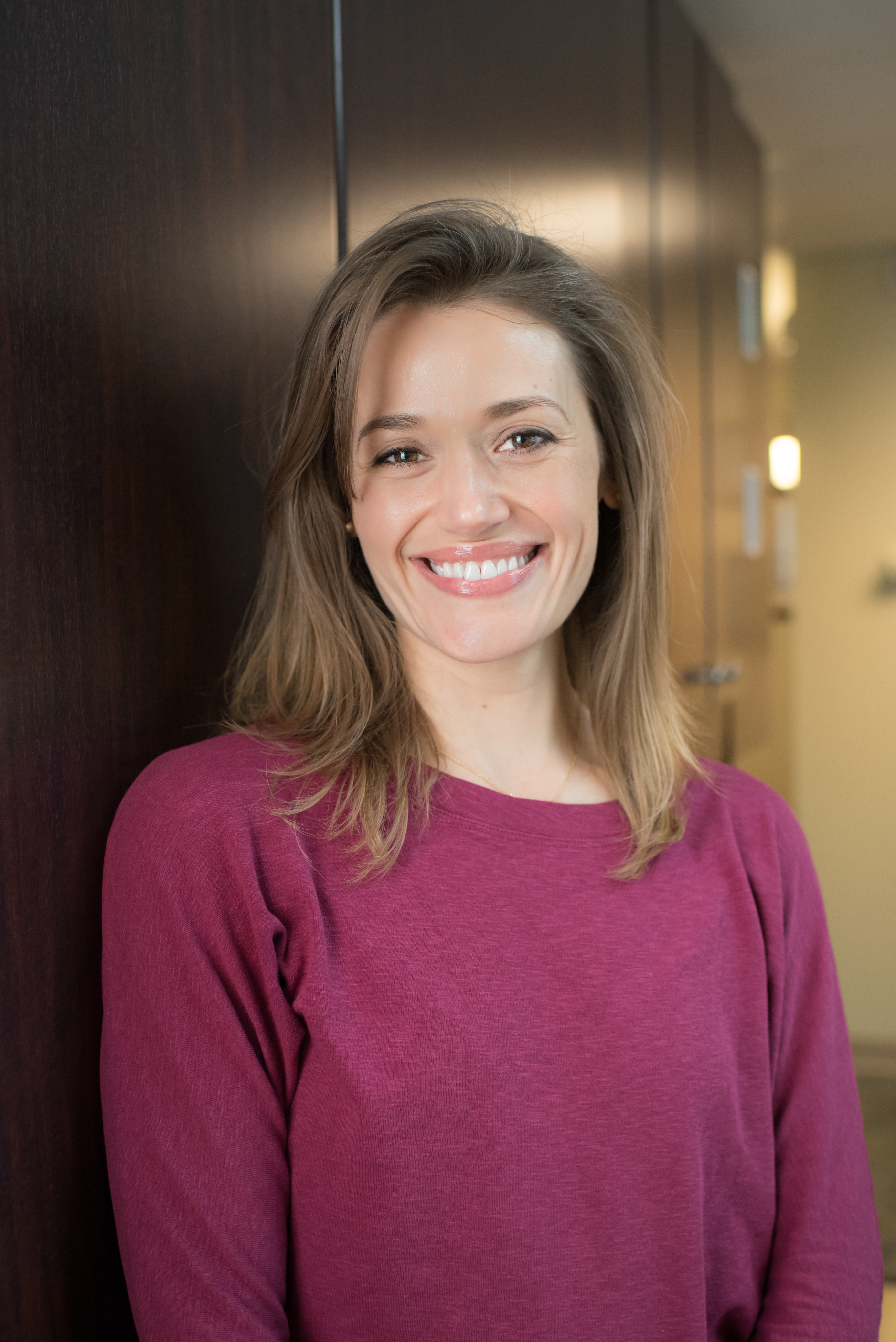 Melissa
Office Administrator
I started out as a music major in voice and flute at Missouri Western State College in 1997, but then I met Dr. Grant and he convinced me that a degree in dental hygiene was the way to go! So, I took the well-rounded scenic route and went to Longview Community College to finish up my basics and then proceeded to go to UMKC School of Dentistry where I graduated at the top of my class in Dental Hygiene in 2003. I have since been the President of the Greater Kansas City Dental Hygienists' Association and I enjoy taking an active role in learning how to advance the field of dentistry. In the summer of 2021 will graduate with distinction as a FAADOM.
A few years ago, I transitioned into a position of working on the front lines in the dental office, being schooled from the masters that are Theresa and Sherry! I enjoy broadening my horizons and am learning a lot about what happens "behind-the-curtain" in quality patient care. What I love more than anything in my career, whether it's at the front desk or working as a hygienist, is being able to share a smile and laugh with anyone who walks in the door!
I've had several hobbies over the years, but currently, I enjoy:
1.  Spending time with my friends and family (Dr. Grant, Eva 14 years old, Eric 11 years old and our two dogs, Bruna and Benny. Bruna is a Soft-coated Wheaten Terrier that's 6 years old. Benny is our Aussiepoo, who is one year old.)
2.  Staying super active (I'm a Jazzercise instructor, I love being outdoors and taking the dogs with Grant on our daily 4:45 a.m. morning walks)
3.  Listening to audible books and podcasts (like "Sawbones" and "TED Radio Hour") and
4.  Encouraging/supporting my kiddos in their interests of guitar, ukulele, bass guitar, sewing, aerial silks, art, choir, gaming (not much encouragement needed there!) and digging in the dirt.
I absolutely delight in trying new things and am always on the hunt for my next great adventure!
"A man who carries a cat by the tail learns something he can learn in no other way." – Mark Twain
"Never grow a wishbone, daughter, where your backbone ought to be." – Clementine Paddleford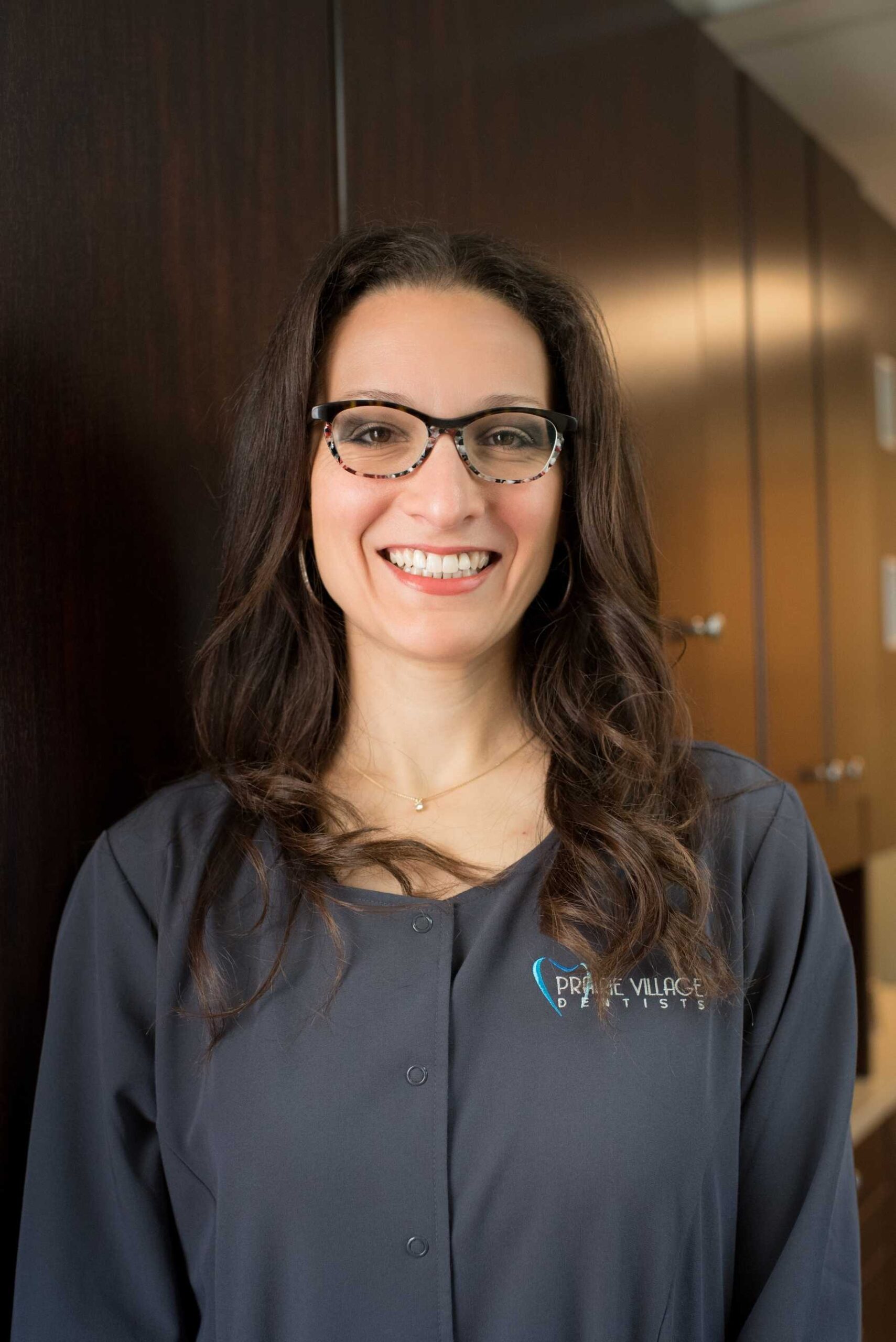 Adriana
Office Administrator
I joined the office in 2020 as an office administrator after an unexpected phone call. As the Granddaughter of a dentist and a patient who spent most of her high school years in the dental chair, I have had a connection and an interest in the latest and greatest trends and technology in the dental world. Although I went to school to study architecture, after graduation, life took me towards marketing for the built environment. After years in the world of marketing for a national engineering firm, I left the built environment and was fortunate enough to stay home and raise my two girls for the past 10 years. As part of the front office, I look forward to meeting and getting to know the "family" of patients who make up Prairie Village Dentists.
"Everything happens for a reason."
"Remember your inner smile" – A mantra from my yoga teacher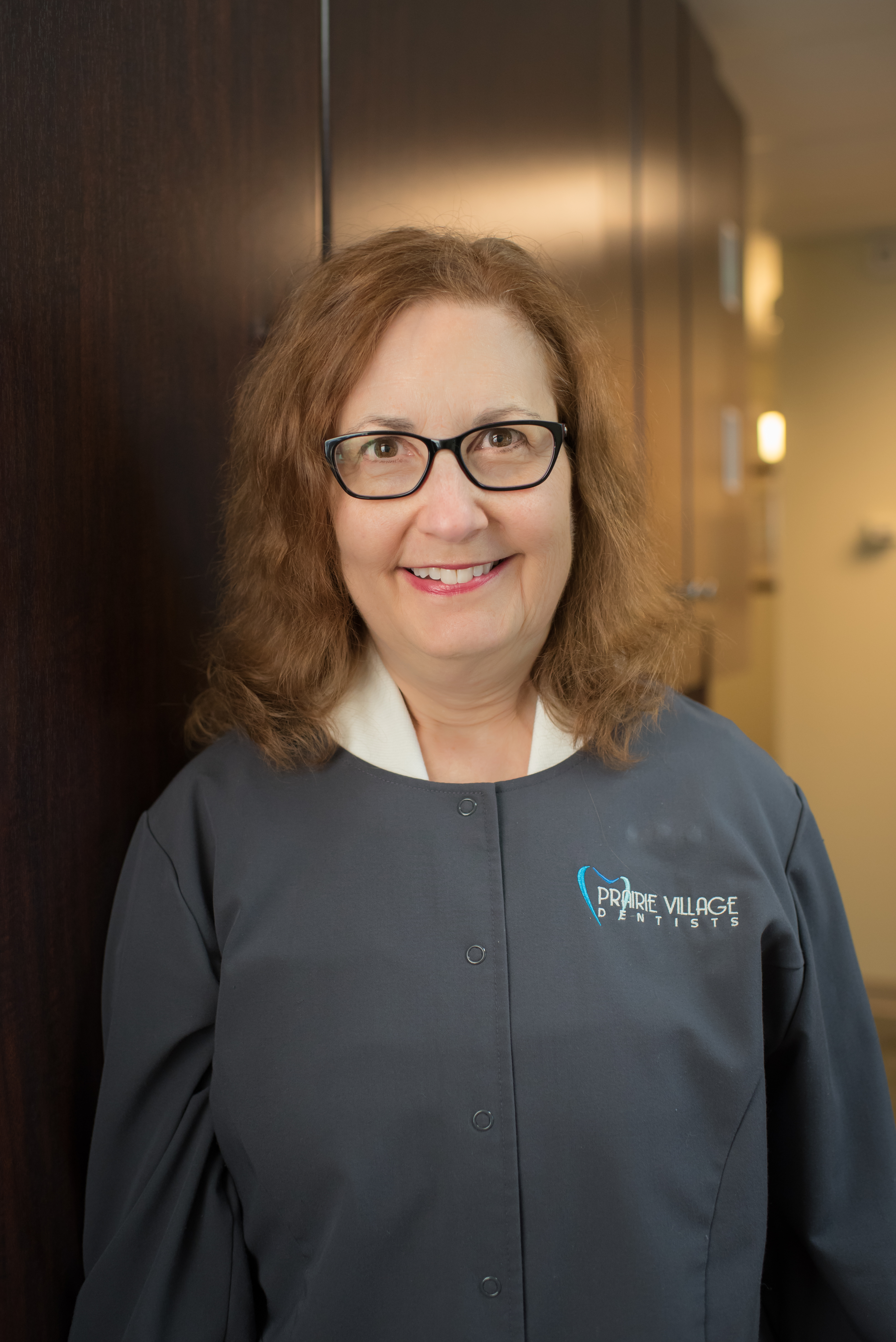 Nancy
Office Administrator
Ever since we joined Dr. Smith's practice in April of 2019,  I have felt so welcomed and surrounded by all of our extremely qualified and friendly staff members!  I love our Prairie Village location, and I am so happy to welcome our patients to such a warm and technologically advanced office!
I'm a proud Jayhawk with a degree in secondary education, and a former English and substitute teacher in the Lee's Summit and Shawnee Mission school districts.  I've been happily married to Dr. Reichman since before he went to dental school.  When his previous office in Prairie Village needed a receptionist, I began helping out part-time and really enjoyed it!
We are both natives of Kansas City, & both we, plus our 2 children, all graduated from Shawnee Mission East High School.  Our daughter and her husband currently live in Adelaide, Australia, and our son, his wife, and our adorable one-year-old grandson live in York, Pennsylvania.
I enjoy being outside, doing yardwork, going for walks, and listening to all kinds of music.  I am also enjoying learning the computer system and helping out at the front desk with everyone in this amazing office!
"If I am not for myself, then who will be for me?  But if I am for myself alone, then what am I?  And if not now, then when?"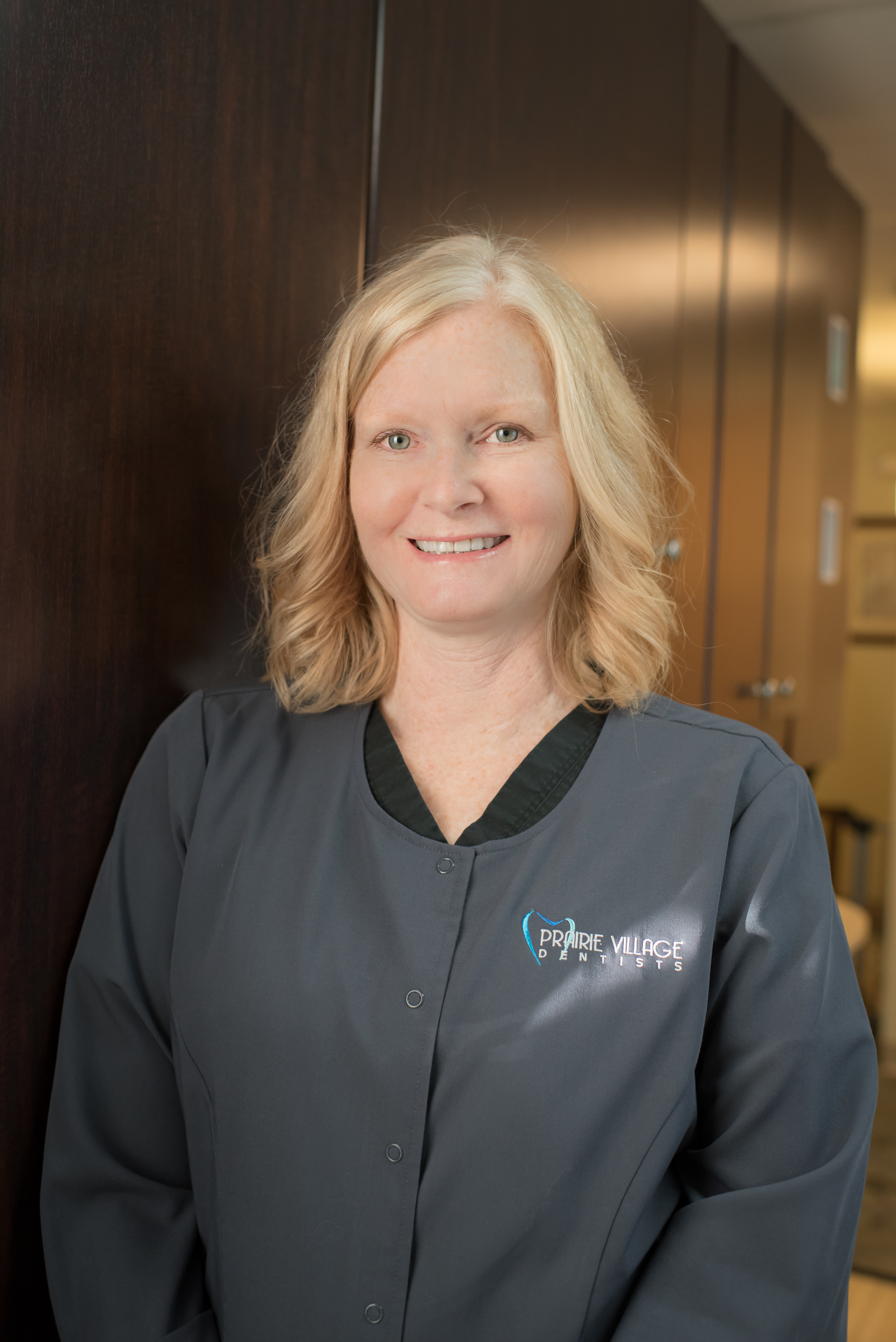 Diane
Registered Dental Hygienist
I knew I wanted to be part of a dental team from a very young age. I wore braces from 4th-8th grade and dreamed of being just like one of the dental assistants I saw once a month. (They were all so nice and pretty.) As time went on I was accepted into the dental hygiene program at JCCC. I strive to always go above and beyond for each patient I care for. I care for their oral as well as overall health, and enjoy taking the time to be able to sit and talk with you about each of your accomplishments. I have always felt very lucky to have had excellent dental care as a child, and I strive to duplicate that feeling and experience for each and every one I see.
"When there is a light in the soul, there will be beauty in the person."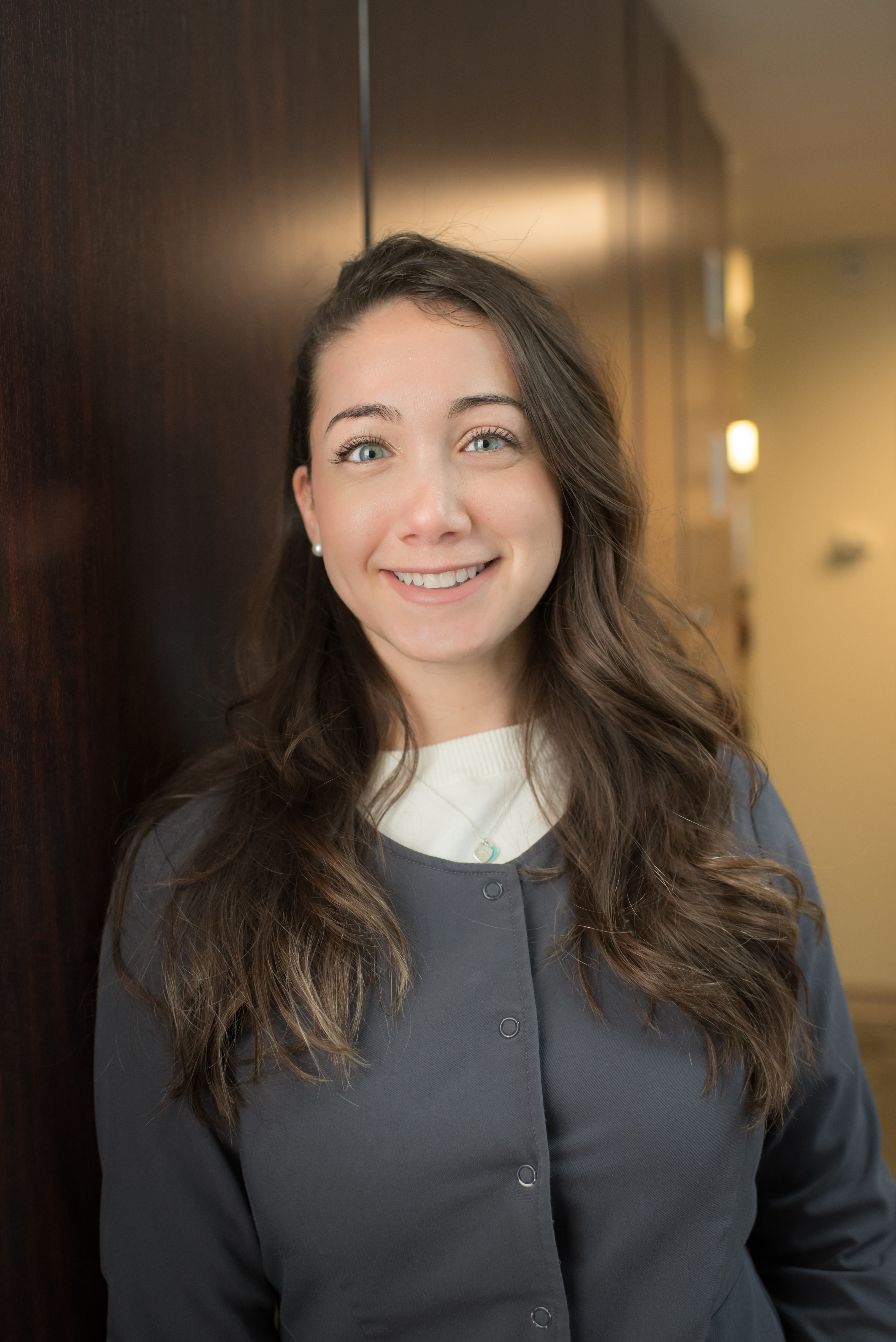 Jen
Registered Dental Hygienist
Jennifer is a New York City girl transplanted to Kansas and Dentistry has been her passion and career choice for over 10 years. As a dental hygienist, she really loves getting to educate her patients in their dental health as well as getting to contribute to their overall health with dental cleanings. She enjoys spending her free time with her husband and son who are her heart and soul and she looks forward to growing in their family. As much as she would love to say her hobbies include being outdoors and being athletic, she would much rather be cooking up a traditional Italian meal while listening to music and drinking a glass of wine. Her other pastime is watching historical drama shows/ movies preferably British and learning about history.
"Happiness can be found even in the darkest of times, if one only remembers to turn on the light".  – JK Rowling
"It does not do to dwell on dreams and forget to live".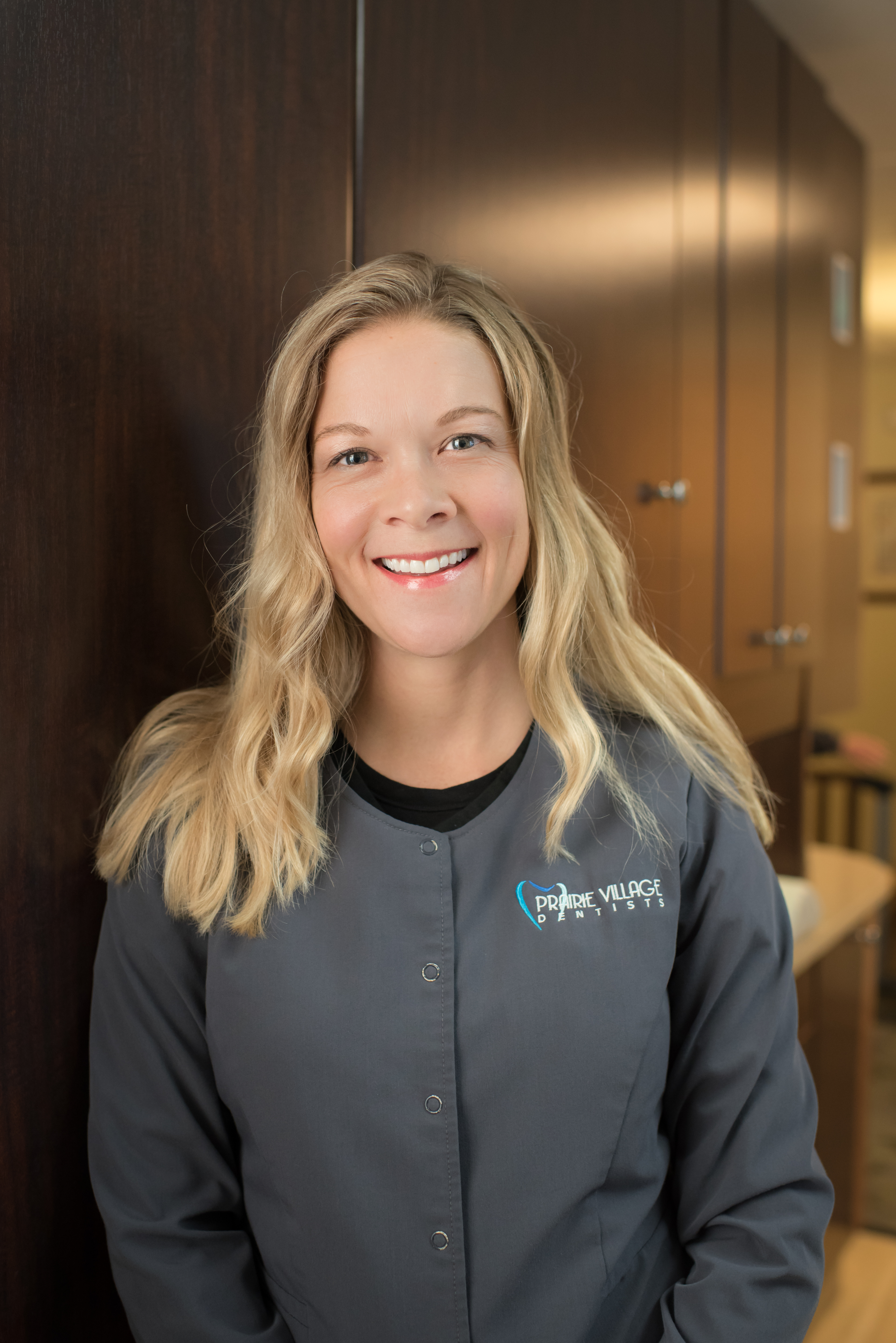 Robin
Registered Dental Hygienist
"Growing up, I wanted nothing to do with the dental world. I was surrounded by parents and grandparents who talked teeth since the day I was born.
In community college, I had a counselor who advised me to take a skills assessment test, and wouldn't you know, dentistry was a career that was suggested as being one that would work well with my skill set. This wise counselor told me I couldn't run from my destiny.
Dr. Grant, Melissa, and I met at UMKC School of Dentistry. I was Melissa's big sister in hygiene. And Dr. Grant, never taking himself too seriously, could increase the room's humor factor by 100! All these years later, we are back together again.
My husband and I have been married for 15 years during which we lived in St. Louis, the San Francisco Bay Area twice, and Oahu, Hawai'i. We settled back into Prairie Village in 2013 because it was most like our walking community in the Bay Area.
Our daughter, Olive, will be eight this year and is never afraid to roughhouse with the boys while wearing her princess dress.
In my spare time, I volunteer for the State of Kansas Health Department by providing dental screenings in the local elementary schools and I volunteer as room mom at Kansas City Christian School. I am also the Prairie Village Homeowners Association island volunteer who landscapes and maintains the neighborhood island located at Tomahawk and Nall, north of 75th Street.
" When the whole world is silent, even one voice becomes powerful."  – Malala Yousafzai
" One of the secrets to staying young is to always do things you don't know how to do, to keep learning."- Ruth Reichl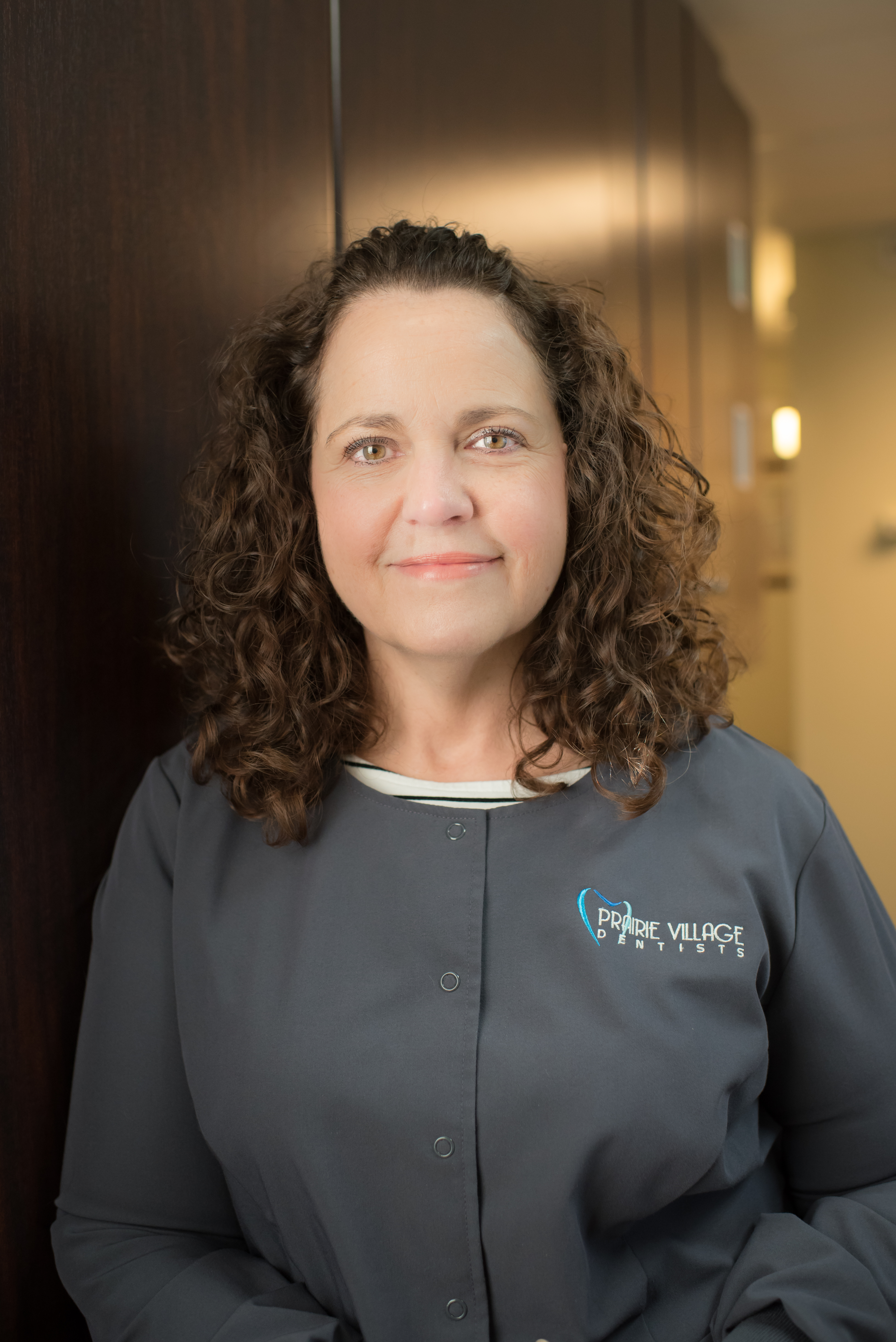 Maria
Certified Expanded Function Dental Assistant
I grew up right here in Kansas City. I've been in the field for over 30 years. You can say I have a passion for my career. I attended UMKC with a Bachelor's in Biochemistry and Dental Assisting School, then I continued my education in the dental field. I have been a Dental Instructor for 13 years and am now the Program Director for Midwest Dental Assisting School. My dad was a builder and passed on the love for refinishing furniture. I'm an avid trained baker and I love spending time with my daughter, Katelyn, and my two standard poodles, Cooper and Jackson.
"No act of kindness, no matter how small, is ever wasted."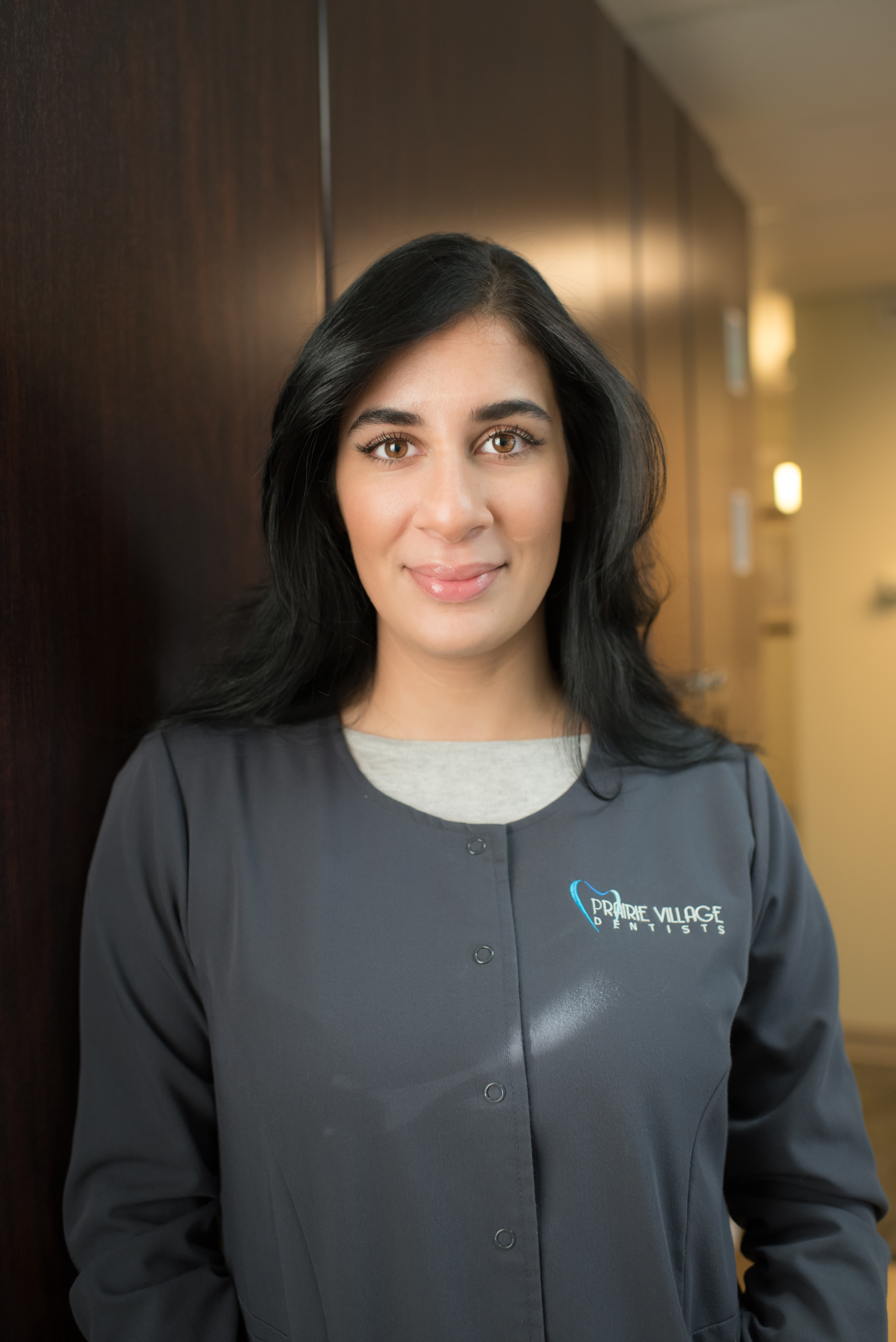 Nadia
Dental Assistant
I grew up in Kansas City. Always anxious to help others and make a positive impact on your lives, I feel that I've stumbled upon a place where I have the ability to do both every day. I have a passion for what I do and am always wanting to continue furthering my education in the dental field. Outside of work, I love spending time with my family and friends. Not only do I like to use my artistic ability at work but also outside of work with makeup freelancing. I also enjoy staying active and cheering on my KC sports teams.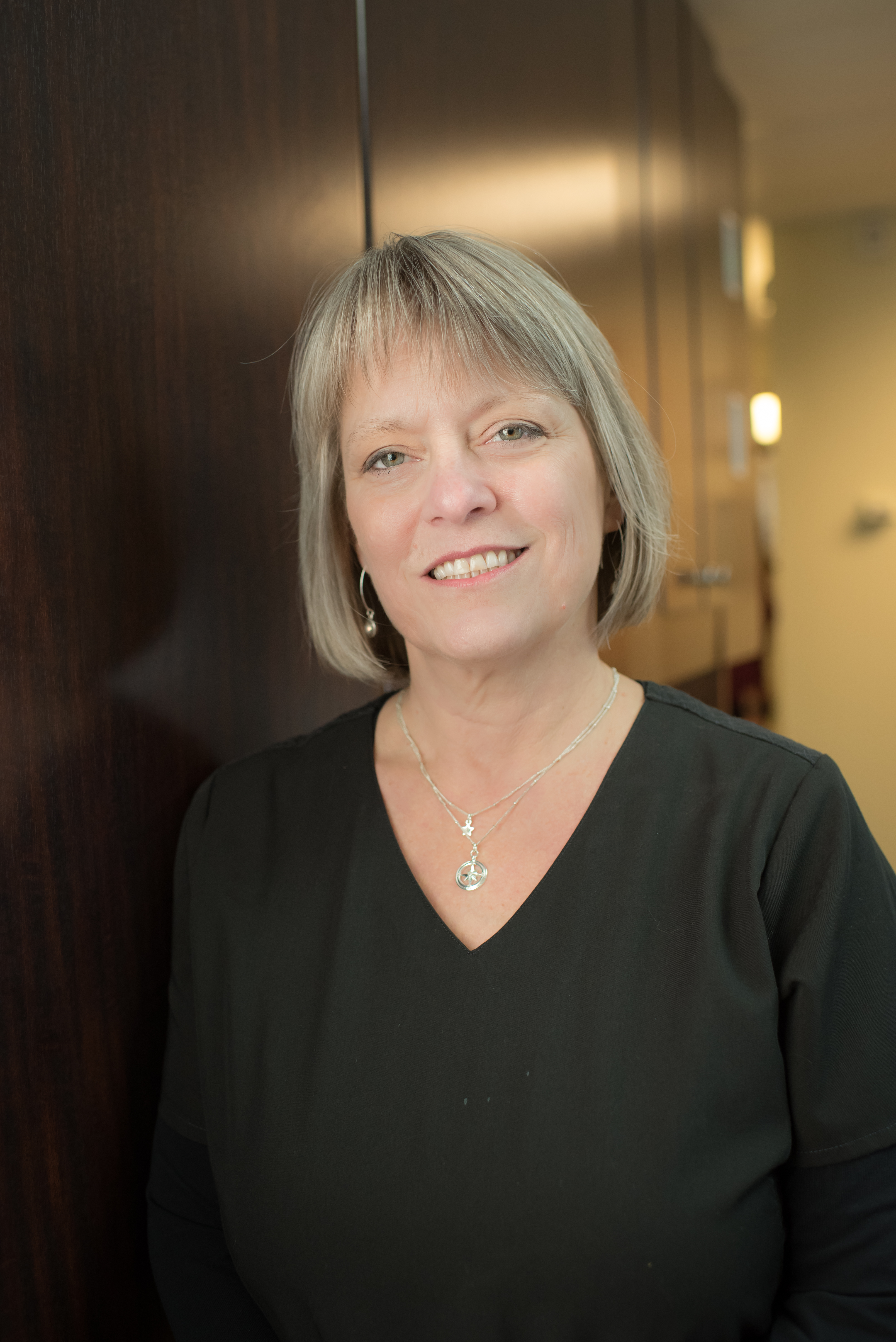 Carol
Lab Technician
Growing up, I had never considered dentistry as a profession. I answered an ad in the local newspaper looking for someone artistic, crafty, and able to be trained for lab work. I have been with Prairie Village Dentists ever since. I enjoy helping people become orally healthy, but most of all, I love the relaxed and fun atmosphere our office prides itself on, as well as the amount of laughter we share with each of our patients. I have always felt that dentistry is a vital and incredible profession, which has the power to give patients not only a great smile, but also the knowledge to empower healthy habits.
"When the power of love overcomes the love of power the world will know peace." – Jimi Hendrix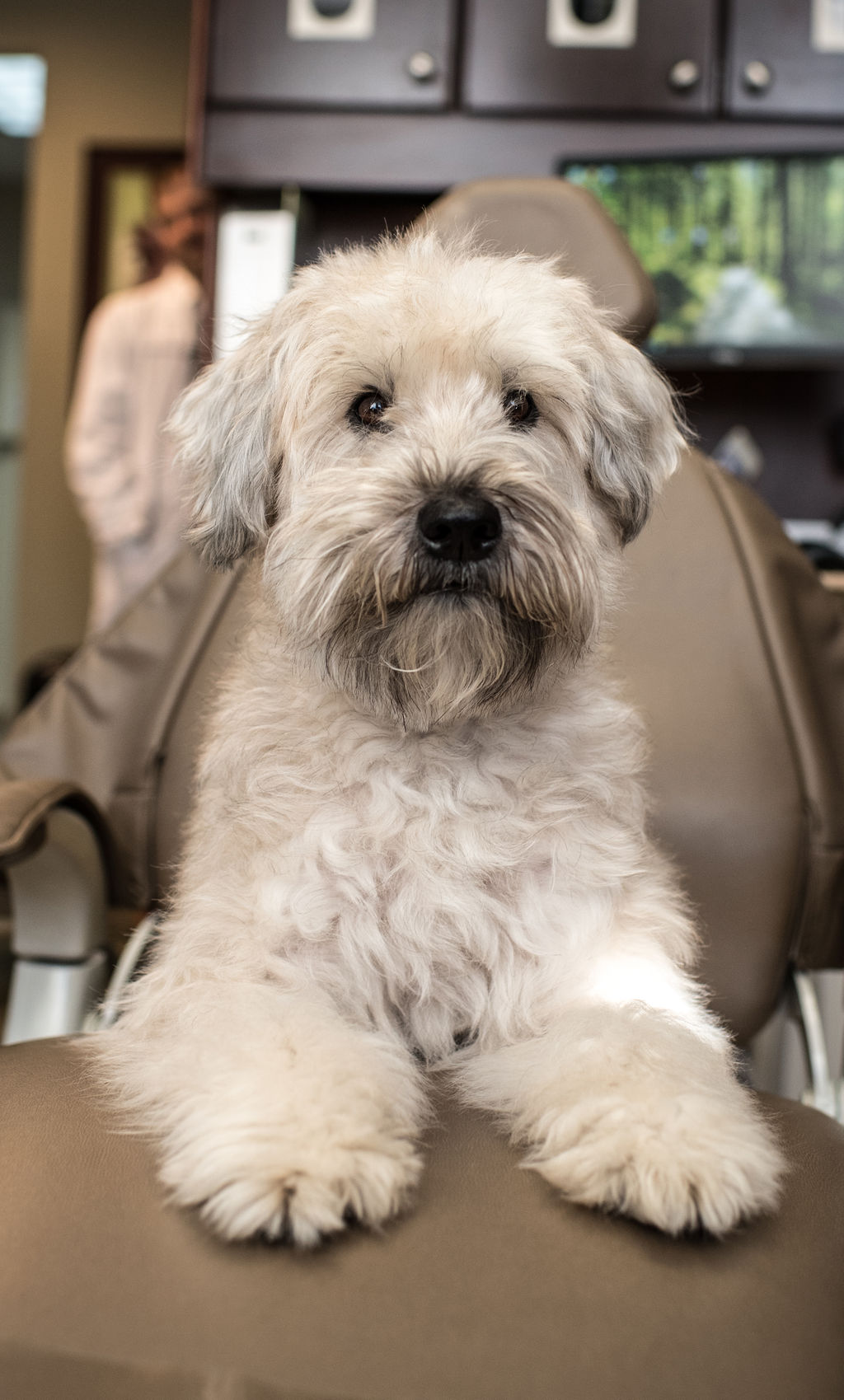 Bruna
Office Therapy Dog
I am a therapy dog! I was the runt of my Wheaten Terrier litter and even full grown now at 6 years old, I only weigh 26 pounds. (Most Wheaten's weigh around 35-40 pounds). I am the most sweet, gentle pup around! I have never growled at anyone or showed any signs of anything other than pure excitement and love for every face I see (unless it's nap time and it's quite hard to get me to show any interest in anything!). My hobbies include going for my daily walk/jog with Dr. Grant and Melissa (ok, just my four times a week jog), playing tug of war, doing tricks for goodies, perfecting my Salvador Doggie (you'll just have to ask)…and lots of napping! I also have experience doing hospice work. My downfall is occasional jumping (I'm working on it…it's in my breed's nature). Please come visit me! I don't shed and am one of the more hypoallergenic breeds… and I'm super soft and cuddly!
"Some of my best leading men have been dogs and horses." – Elizabeth Taylor
"What do dogs do on their day off? Can't lie around – that's their job." – George Carlin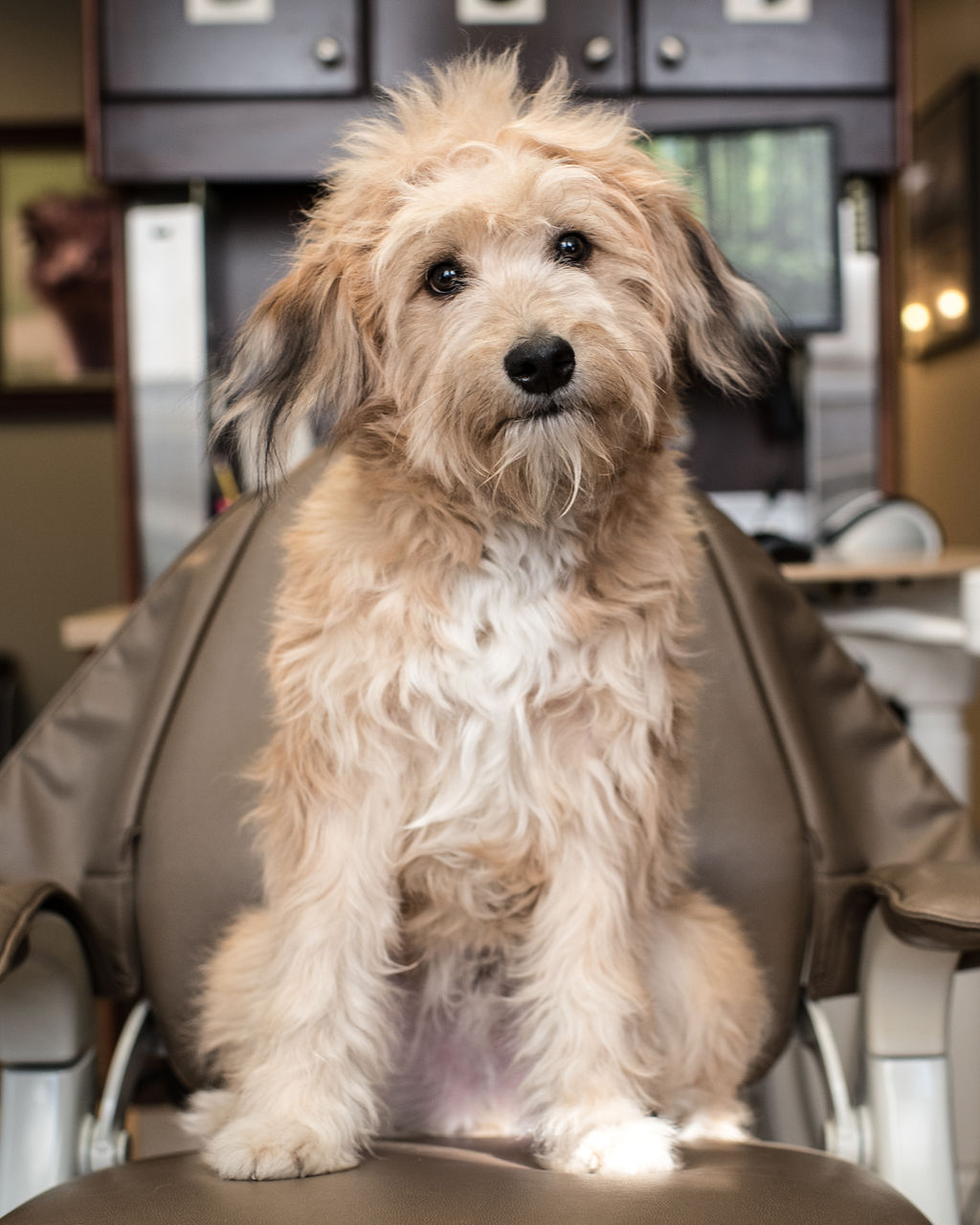 Benny
Office Therapy Dog
When a poodle and an Australian Shepard wished to bring the happiest of creatures into the world, they made ME! I'm a silly, noodley ball of goofy fuzz! I've been affectionately nick-named "Bennigan", "Benzocaine", "puddle of fuzz" and "Three-poops-McGee"! I love to "ponk" kisses with my nose and acorns are my favorite fall treat (even without pumpkin spice! 😉 And like my "sister", Bruna, I'm here to provide comfort and therapy for all of my favorite two-legged friends! I am also pretty hypoallergenic and don't shed much at all. Big sis Bruna has been helping me learn how to do tricks, but really, I'd rather play all day! If you want a smile on your face, the best bet is to come see me!
"No matter how little money and how few possessions you own, having a dog makes you feel rich." – Louis Sabin
"Once you have had a wonderful dog, a life without one, is a life diminished." – Dean Koontz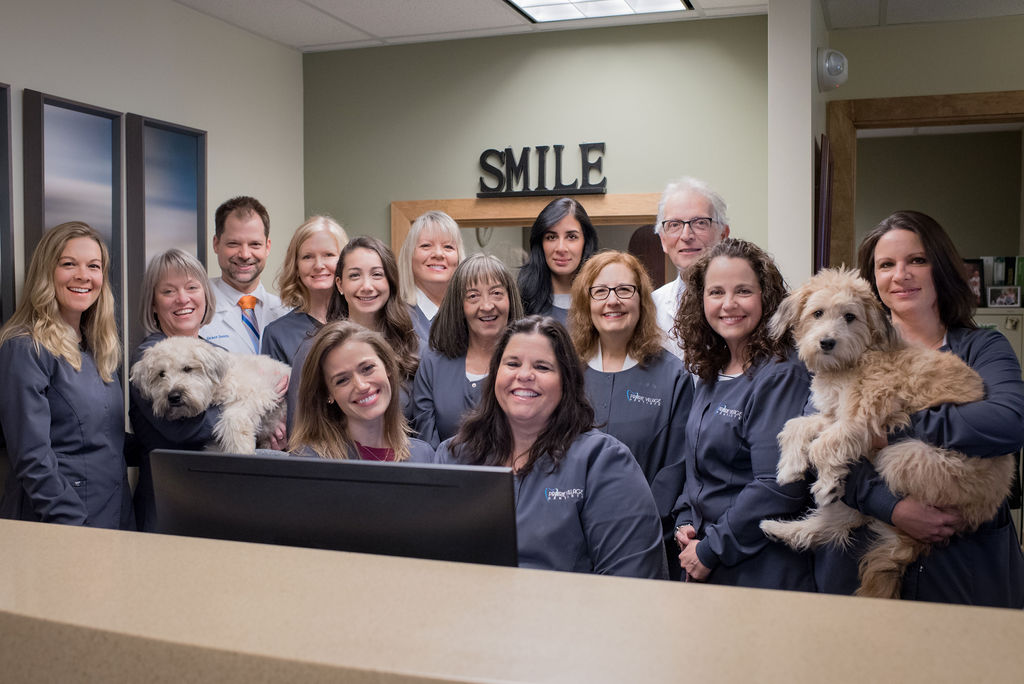 Prevention-Oriented Dental Team
Your Prairie Village team is composed of some of the best dental professionals in the area. We have the training, experience and continuing education to keep you in the best dental health possible.
Our practice is also known for our people skills. We love what we do and we genuinely care about our patients. We get to know patients better, so their visits with us are always pleasant. Our office is warm, friendly, and it's definitely a very fun place to be.
Prairie Village Dentist is value-oriented. You get the best value because we are thorough, gentle and good at what we do. Patients have a say in everything that has to do with their dental health. We'll give you the information and present treatment options and then we'll provide the services that YOU choose.
Can't have anesthesia because you're afraid of needles and drugs? We have solutions for you. Some patients are not thrilled about having plastics in their body, some are allergic to many dental products, and some are special needs patients, so we find ways to provide them the dental care they need.
We are very accommodating, very patient, and capable of treating anyone.
For questions about your dental health or more information about our advanced dental treatments, please call our Prairie Village, KS dental office at (913) 649-5600. You may also use our online form.