So once again it's time for our quarterly segment of "I never knew!" The section of our monthly blog that goes over advice, suggestions, or just word to the wise information that is sometimes glanced over and assumed that we knew.
In this installment we will be covering 10 helpful facts to put your mind, body, and mouth at ease.
So let's get started: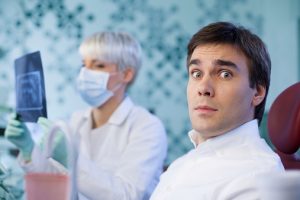 1.  Your dental experience will be positive when you can trust your dental professionals; know exactly what to expect, be confident that you can and will be a part of the decision making for what will be happening, and that you will be numb or can be sedated in some way if necessary.
2. Have no fear. Today, modern pain control will help more than 90% of people who could not get numb during a dental procedure in the past.
3. If you compare the dental technology that exists today with a dental office of the 1930s, the progress is staggering. Available today are tools such as numbing gels, anti-anxiety medication, local anesthetics, nitrous oxide, oral sedation, and intravenous sedation, to name just a few. In the 1930s, there was only Novocaine (and for some people whiskey).
4. Pain is real and anxiety is real, but they are different issues. Anxiety must be dealt with on an individual basis. Some people only need to know they are in control while in the dental chair. Others require distractions (such as watching TV or listening to music) or sedation such as nitrous oxide.
5. There are four basic reasons why you can get a different diagnosis from one dentist to the next-time, training, experience, and integrity.
6. When looking for "Dr. Right", bring along your intuitive powers. You can judge a lot about a dental office from your first phone call to your first visit.
7. Make sure that Dr. Right gives you a comprehensive exam. We consider it a standard of care in dentistry.
8. Here's an important question to ask the dentist when making a treatment decision: Is this the treatment you would recommend for your family members? Dr. Right would be happy to answer all your questions.
9. During your professional teeth cleaning appointment, ask the hygienist if he or she is using a probing tool to check for gum disease.
10. Not all dentists file insurance claims for their patients. The dentists who will, do it as a courtesy service.
So there you have it, you are once again a tad more informed then when you started reading this. Feel confident in your instincts, if you feel uneasy…ask questions. Be in control of your treatment decisions. And above all else trust your professional as well as yourself.